One Room Challenge week4
week 4
We are at week 4 and only a couple of weeks left until the final reveal of this 6 week One Room Challenge hosted by Linda from Calling It Home and House Beautiful. In case you missed week 1, week 2 and week 3 posts, click on the links or follow to the previous blog posts at the bottom of this page. There is still so much left to do but the crazy thing is that I have a photographer scheduled for next week. The next week should be pretty interesting and intense getting all of the selections and details finalized. There's also a part of the room that you didn't see in the before photo. The left side of the room has the most awkward shaped corner as you can see in the floor plan on the week2 post. Definitely a design dilemma with the low ceiling height of 4' and that door! oh my! Need I say more?
THE rug
Last week I didn't include a rug in my moodboard because I didn't know just yet the rug that I was planning on. I did know that I wanted it to be eco-friendly, sustainable and all that goodness of a rug. With the smallest budget in mind I was able to source a very interesting Safavieh rug on Overstock.com of course! The price was unbeatable and most importantly it had all my requirements for a vegan rug. I chose a Jute rug which is biodegradable and made out of non other than jute fibers. Jute rugs are often a little rough but surprisingly this rug is very soft. When it arrived I was surprised to see that there's a lot of denim woven into the rug and I can only assume that it is recycled denim pieces which is pretty cool. However, it is a little more blue than I expected so we will have to see if we can make it work.
the update
1. The Repeel wallpaper is up on the focal wall but there will be a surprise so I decided to wait for the reveal to show you what I've done.
2. The wood floor is repaired and stained.
3. I chose a neutral white for the wall paint. I love using Benjamin Moore's Natura line. It is a Zero VOC paint, the best part is that it's odorless and it is now certified asthma & allergy friendly.
4. Now what to do with the awkward little door? I have some ideas up my sleeve but mainly the goal is to hide it! What would you guys do in this case?
5. Received the rug and even got it washed because I ended up leaving it outside to air it out. Of course it ended up being outside longer than intended and it started raining. So now we just have to wait for it to dry.
my 9 Tips to bring success into your life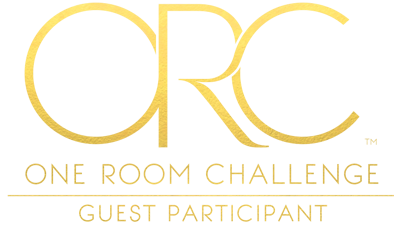 Thank you for visiting. I look forward to having you continue to follow me on this journey. I think this week is going to be the toughest for everyone as we all have to get our rooms photo ready for next week. Can't wait or wait, I can! Until next week.
Do you have a bedroom that is challenging? Would you like to transform it in 6 weeks? I'm always up for a challenge, contact me anytime to tell me all about it!