One Room Challenge week3
Half way there
We are at week 3 and the mid-way point to completing the 6 week One Room Challenge hosted by Linda from Calling It Home and House Beautiful. In case you missed week 1 & week 2 posts, click on the link or follow to the previous blog posts at the bottom of this page. If you are just joining us now, this week is the reveal time for the Repeel Wallpaper choice for the bedroom. On last week's post, I shared the 7 options available and a lot of people were voting for the Medallion design. And now drumroll please. For this bedroom I have selected the Repeel Woodgrain Chevron Metallic Silver wallpaper as seen below.
THE MOODBOARD
The tried and true moodboard. This is something that my design clients receive when working with me. This is how i show the product selections and the overall scheme and mood for a particular room. Here are my product selections for this one room challenge bedroom transformation.
the update
1. The Bed is the starting point for this room as this is the piece that was already in existence. The bed is large but the upholstered material softens it up and gives a sophisticated yet comfortable look. There are two different height options for the headboard and of course I went with the tallest headboard to provide comfort and support.
2. Plants are of course going to be included in this room upgrade and I've been really obsessing over the midcentury plant stands and my goal was to find an affordable and sustainable option. I think the plant stand that I found is perfect. It is a much less expensive piece compared to those I've been seeing and the legs are made out of bamboo which is a sustainable material and they are even adjustable. How great is that?
3. The fan was replaced as it is not the most ideal piece to have above the bed according to Feng Shui and of course it was too large for such a small space. The ceiling light fixture that I chose is very subtle on purpose and the goal was to blend it with the white painted ceiling. It is understated for the reason of not bringing attention to the low ceiling but to create more visual space.
4. This was not my first bench choice. The bench I really wanted was unbelievably beautiful but unfortunately it was wrapped in leather. As a vegan designer, I always try to make the right choice in terms of the materials I specify so I had to come up with plan B which is a faux fur bench as seen on the moodboard image.
5. I try to specify green materials when possible. I specified Benjamin Moore Natura paint which is a Zero VOC paint and most importantly, it is odor free. I just love it when paint is odor free, makes it livable during a renovation and a pleasant experience to apply.
my 9 Tips to bring success into your life
The wallpaper is slowly making it's way unto the walls. Thanks again to Repeel Wallpaper for the support and amazingly quick turn around time. The paper arrived so fast. The experience of using removable wallpaper is going well so far. Can't wait to show you what it looks like.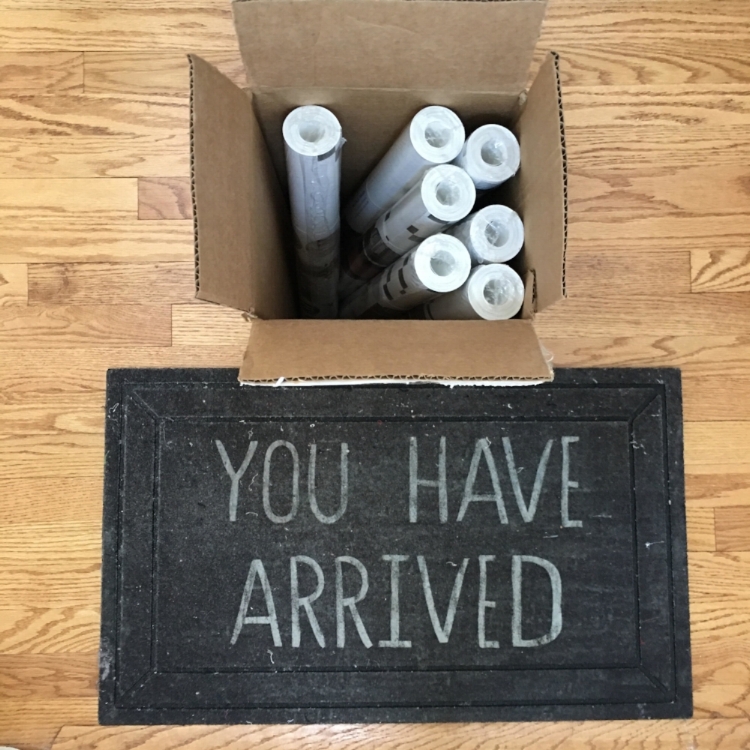 Thank you for visiting. I look forward to having you continue to follow me on this journey. Can't wait to see what my fellow designers wrote about for week3. See you all next week!
Do you have a bedroom that is challenging? Would you like to transform it in 6 weeks? I'm always up for a challenge, contact me anytime to tell me all about it!